If you sync outlook contacts to mobile devices, you can easily increase your productivity and efficiency as a corporate team member. In this article, we are going to talk about the benefits of synchronizing corporate contacts to outlook and smartphones. In addition, you are going to learn the easiest methods to prevent and remove duplicate contacts in outlook. Keep along with us!
What Microsoft outlook is?
Microsoft Outlook is a communication management system, which has three major components including inbox, calendar, and contacts, which are popular among most users.
Using Outlook mobile app sync contacts option is the best solution to increase the accessibility of any information in your contact list from anywhere you are. It also helps you to schedule all the business meetings, or manage corporate emails without having to access your computer.
What are the benefits of syncing corporate contacts to outlook and mobile devices?
Syncing corporate contacts to outlook and mobile devices has many advantages such as:
Improved Performance and Efficiency
Using this automated communication management system helps you to save time and energy as there will be no need to enter inputs or update information manually across multiple devices.
Ease of Access
Syncing corporate contacts to outlook and mobile devices helps employees easily access contact information from inside and outside the office. This is the best solution to increase their efficiency and improve the collaboration between team members.
Reinforced Productivity
Accessing an automated communication management system, which updates all the information continuously, makes the time of searching for contact details decrease. This way, team members can be more focused on their important tasks and this will reinforce their productivity.
Efficient Data Management
Syncing Outlook contacts to smartphones help all the employees to access a central repository system and use the same set of data. This will reduce the chances of creating duplicates and increase the efficiency of data management.
Improved Customer Support Team Performance
Accessing the most updated contact information helps team members to respond to all of the customers' inquiries more quickly and effectively.
Better Communication
With accessing integrated synchronized data, all of the team members can easily communicate with each other and they can schedule meetings or calls with the right client more simply.
Compliance and Security
When the company has access to an integrated and synchronized repository of contacts, it would be ensured that everything complies with industry regulations and standards, while the clients' information is protected safe and sound.
Improved Decision-Making
By integration and synchronization of contacts' data, managers and executives can improve their decisions and make better choices based on up-to-date information.
Use Smartphones built-in Features
Sync outlook contacts to smartphones, allows every corporate team member to use some of the most useful built-in features such as Siri, Google Assistant, map, and calendar to find the right contacts, recognize incoming calls, schedule meetings, etc.
Increased Mobility
Synchronizing Outlook contacts to mobile helps team members to access corporate contact information from anywhere. This is especially useful for employees who work remotely or those who spend most of their working hours outside of the office.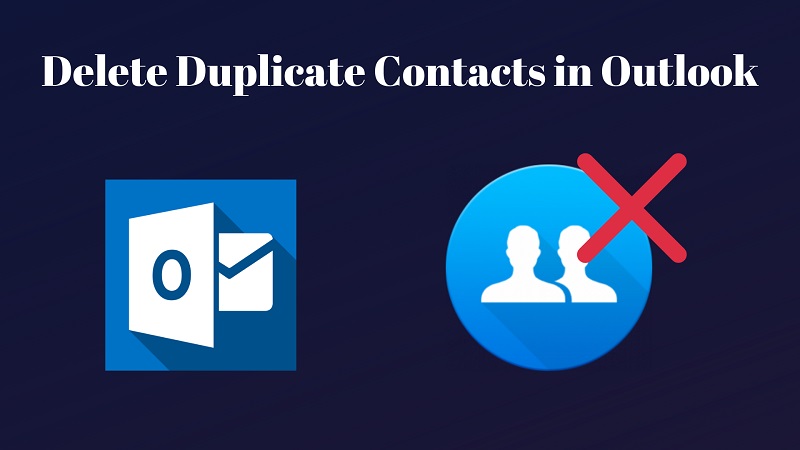 How to prevent duplicate contacts in outlook and Mobile devices?
Here, we are going to talk about outlook duplicate contacts and the methods you can use to remove them.
Your contacts in outlook can be created or imported from other sources like older outlook accounts such as Gmail, iCloud, etc.
If any contact is present already in the account, you can either create a new one or merge both during the migration.
However, there is no feature in outlook to prevent or remove duplicate contacts. While you can use some methods and do the deleting process by yourself.
How to remove outlook duplicate contacts one by one?
If you do not have many duplicate items in Outlook, you can follow this method to remove them one by one:
Open Outlook and go to the people option.
Click the phone icon that will open the contacts of the group.
In the presenting list, you can see the duplicate contacts in the list.
Right-click on them.
Choose to delete.
This way, you can delete the individual contacts only. To delete more, you need to use another method.
How to remove outlook duplicate contacts in bulk?
A faster way to delete duplicate contacts in bulk is to export them to an external file. Then you can import the same contacts back to outlook during which you will use the duplicate removal option in the import wizard following these steps:
Click the person icon.
Choose the contacts folder having duplicate items.
Right-click it.
Choose a new folder.
Create a new folder with any desired name.
Click OK.
Go back to the original folder and select all the contacts.
Then drag and drop them into the newly created folder.
Now, click the file option.
Click open and export.
Choose import/export.
Choose export to a file.
Click Next and then select the first option of comma-separated values.
Click Next.
Then choose the duplicate folder and click Next again.
Browse the location to save the CSV file and then click Next bottom.
Now, you might click Finish to finalize the whole process.
This way, the duplicate contacts will be moved to a new CSV file. At the end of the process, you need to import the same contacts backup to outlook. While importing, you need to use the option "do not import duplicate items".
By this, you can remove all the duplicate contacts from outlook easily. However, the easiest method to remove duplicate items from Outlook is by using a professional tool.
The Bottom Line
Here, you learned about the top benefits of synchronizing outlook contacts to smartphones for corporation team members, and the easiest ways to remove or prevent duplicate contacts in outlook. Now, you can sync outlook contacts to mobile devices and improve your efficiency. Please, feel free to leave us your feedback and comments.