Press Release
PaayaTech, Inc., a legal technology company, has announced new features to their tickler, docketing, and calendar system called MatterAlert. Integrated with calendar rules (court rules), this system is designed to help legal teams seamlessly manage all matter-related information in one platform. The right tickler and docketing system makes it easy to keep track of all critical dates and limitations across all matters, so you never miss any deadlines.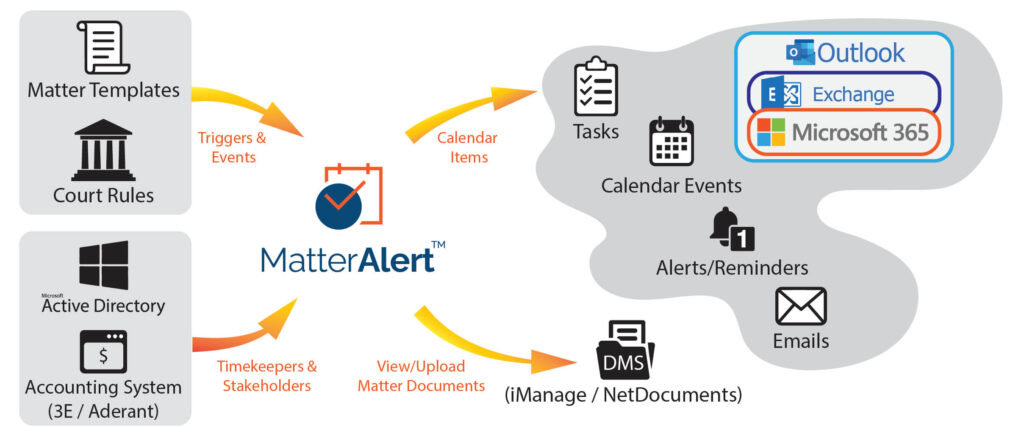 The list of high-level enhancements includes:
Full integration with NetDocuments & iManage.
Full integration with Aderant & 3E accounting systems.
Document Generation Add-on.
Outlook Add-on for the legal team to view their Matters' upcoming tasks and appointments, and limitation dates from the Outlook side toolbar.
Integration with Microsoft Teams to create online meetings.
Mobile-ready user Interface.
Calendar rules customization for specific practice areas or individual attorneys.
"During the past 15 years we have worked with law firms, we learned how important it is to set up technology for attorneys and legal teams to simplify the process and save time. We built MatterAlert with that vision in mind. MatterAlert centralizes all matter-related information, making it easy for the legal team to collaborate. Our recent enhancements not only integrate MatterAlert into popular systems and applications used in the legal industry, but also allows law firms to customize and tailor the calendar rules for each practice area or even attorney by adding tasks or events related to court rule limitations." said Hossein Jabbarzadeh, CEO of PaayaTech Inc.
MatterAlert can manage events and tasks and allows the legal team to collect all matter-related information such as contacts, documents, emails, notes, and other important information in one platform.
More information about MatterAlert can be found at https://www.paayatech.com/MatterAlert.
ABOUT PAAYATECH INC.
PaayaTech Inc. was established in 2007 by a team of experienced legal technology experts with a focus on providing specialized legal technology consulting and software development solutions for law firms. The company offers three software platforms designed to increase productivity at law firms: MatterAlert, a matter-centric calendar, tickler and docketing platform; CorpSync, which syncs corporate contacts to mobile devices and MS-Outlook; and CorpIntake new business intake (NBI) software. Learn more at www.paayatech.com.
Media Contact
Kimberley Brady
kbrady@PaayaTech.com